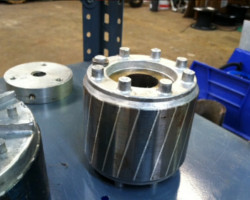 This How-To course addresses the key state-of-the-art application-oriented design issues for Induction Machines. We use basic motor principles and years of practical experience to learn of choices and trade-offs available for Induction Machine design. Academic theory will be reduced to practical results with calculation how-to, taking manufacturing constraints into account. Special emphasis will be on rotor cage design, design differences and new trends in induction motors, including new analysis techniques and design options to achieve low cost, high efficiency, high power density, and maximum torque per amp. The similarities and differences of induction machines, compared to the latest PM machines and wound-field synchronous machines, is a common theme.

The material in this course is the engineering material you can't find in a book, and you can't get from software use or training. It is presented using a combination of modern machine design concepts and computer techniques with a heavy dose of many years of experience. Specification requirements, common design and manufacturing practice, design steps, analysis approaches and test methods are discussed for motors and drive systems for a variety of applications such as industrial systems, commercial HVAC, hybrid and electric vehicles, wind turbine generators, home appliances. Most of the course focuses on three-phase squirrel-cage machines, both IEC/NEMA and non-IEC/NEMA types.

The primary goal of this course is to provide an up-to-date, practical foundation of induction machine design techniques to produce accurate and realistic design results based on the electrical, magnetic, mechanical, and thermal interactions.


Induction Machine Methods
Practical Magnetic Analysis Techniques
Putting Flux & Windings to Work
Performance & Loss Calculations
Realistic Practice & Expectation
How to Test for Parameters & Performance