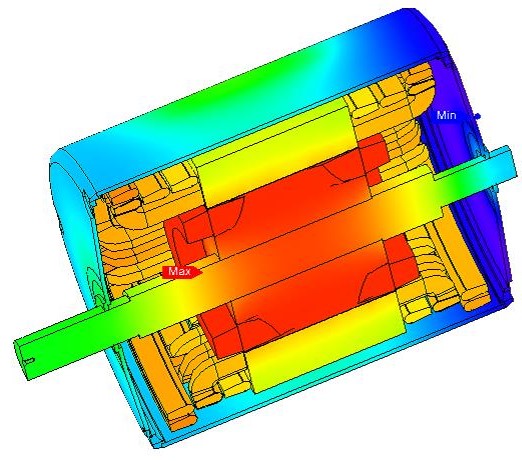 You will learn about practical Thermal Design Methods and the latest trends, including:

** Understanding Heat Sources and Sinks, Heat transfer, Temperature, Building your own Model
** When to choose Natural Convection versus Forced Convection Cooling versus Liquid Cooling
** New Analysis Techniques, Computer-Aided Engineering (CAE), Quick Approximations
** Thermal Design Trade-offs affecting Efficiency, Power Density, Thermal Target, Cost, Reliability
** Design using New Materials, New Manufacturing Methods, New CAE Tools



This is the FIRST course of its kind anywhere in the world! Learn the **How-to** for application-oriented thermal design for all types of motors & generators. Learn electric machine thermal design techniques based on academic theory and years of practical experience, taking manufacturing and costs into account.

The material in this course is engineering you cannot find in a book, & you cannot get from software training! Presentations include specification requirements, design steps, balancing cost and thermal performance, good rules of thumb, analysis approaches & test methods. The course material applies to motors and generators used in industry, hybrid electric drives, traction and propulsion systems, wind turbines, home appliances, aerospace applications. The material applies to radial flux, axial flux and linear machines. This NEW COURSE is a combination of the latest thermal design concepts & computer techniques, with a heavy dose of experience. You will learn the major similarities & differences of cooling systems, fabrication methods, choices of materials, and analysis tools. The MotorCAD software will be used for illustration purposes to help understanding, but this is NOT a software course.

The primary goal of this course is to provide an up-to-date, practical foundation of thermal design considerations and analysis techniques to produce accurate and realistic results based on the electrical, magnetic, mechanical, material and manufacturing process interactions.


Fundamentals of Thermal Design
Heat Sources, Effect of Temperature
Material Considerations for Thermal Design
Thermal Estimation, Analysis and Modeling
Thermal Considerations in Motor and Generator Design
Practical Thermal Design in Motor and Generator
Testing for Thermal Performance and Parameters