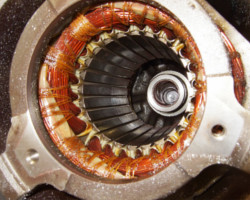 This course will receive a major undate and expansion of material for 2021--More how-to deatils, more technical data about your options. This is a one-of-a-kind course focuses on providing current methods and technology used in motor manufacturing today.

This course will guide you from start to finish of the motor manufacturing process. This comes from a lifetime experience in motor manufacturing as well as the electrical and mechanical design knowledge of motors. Primary focus will be on parts to complete assembly of the motor. Other motor types will be discussed to illustrate their unique features and components. Most of the material is on topics and issues common to all motors.

The goal of this course is a solid understanding of what is takes to manufacture an electric motor and what many of the options and choices are. This course is suited for a person without knowledge or experience in motor manufacturing, but those will exeperience will gain a lot from from the course, too..
Fundamentals of Electric Motors
Understanding Electric Power
Documentation and Information Delivered with Motors
Construction and Operation
Motor Component Details - What is Important & Why
How a Motor is Manufactured
Motor Selection from the Customer Viewpoint
Energy Efficient Motors
Installing & Start-up
Adjustable Speed Drives
Common Failure Causes
Motors with Special Features
Small Motor Overview - Principles, Functions, Parts
Large Motor Overview - Principles, Functions, Parts
New Motor Technologies and New Trends in Motor Manufacturing